1. PRODUCT NAME
EnergyGuard Acrylic Elastomeric Caulk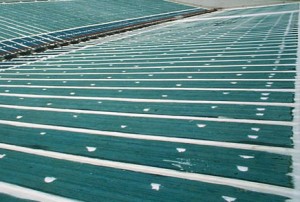 Corporate Address: EPDM Coatings N.E Sales Office 494 Bridgeport Ave Suite 101, PMB 342 Shelton CT 06484-4748
E-Mail: info@fixallroofs.com
Website: http://www.fixallroofs.com
2. PRODUCT DESCRIPTION
EnergyGuard Acrylic Elastomeric Caulk is a brush grade, high solids, acrylic elastomeric roof sealant and caulk.
BASIC USES
Built Up Roofing (BUR), Concrete Roofs, Metal Roofs, Modified Bitumen, Polyurethane Foam, Single Ply Roofing (EPDM, PVC, TPO).
Caulking and sealing sheet metal fasteners, seams, laps and flashings prior to the application of elastomeric roof coatings. Patching concrete, brick and masonry. Filling gaps in sidings and framed openings. Excellent roof sealant for small roof repair jobs.
ADVANTAGES
Superior adhesion to various substrates.
Highly flexible over a wide temperature range.
Contains fungicides and mildewcides.
Excellent weatherability and UV resistance.
Provides a durable, weather resistant, long lasting seal.
Easy to use, non-toxic, VOC compliant water based caulk.
3. TECHNICAL DATA
See table on the following page.
4. INSTALLATION
All surfaces to be caulked must be clean, dry and free of any oil, grease or dirt.
Any existing coating must be checked for good adhesion.
Before application, any loosely adhered coating must be removed and bare surfaces must be prepared, cleaned and checked for compatibility.
EnergyGuard Acrylic Elastomeric Caulk is ready to use. Thinning is not recommended.
Containers should not be left open for extended periods of time.
Follow our roof repair and roof restoration procedures and always perform a coating adhesion test before doing the entire roof.
Putty Knife: 4 inch, flexible blade.
Brush: Good quality, stiff, synthetic bristle brush.
Clean Up: Water
5. AVAILABILITY & COST
EnergyGuard Acrylic Elastomeric Caulk is available directly from Fixallroof Coatings, from authorized distributors and online. Contact Fixallroof Coatings for referral to a local Sales Representative or visit our website.
Pricing information can be obtained from Fixallroof Sales Representatives.
6. MAINTENANCE
Periodic maintenance of Fixallroof Roof Restoration System ensures extended service life and maintains reflectivity.
7. TECHNICAL SERVICES
Contact Fixallroof Coatings for Technical Support. Additional information, product literature, brochures, and specifications are available.
8. FILING SERVICES
Additional product information is available from Fixallroof Coatings.
EnergyGuard Acrylic Elastomeric Caulk Technical Data
| | | |
| --- | --- | --- |
| roperty | Value | Test Method |
| Color: | White | |
| Viscosity: | 700 cps | Brookfield |
| Solids: | 68% ± 2% | |
| Density: | 11.3±.2 lbs per gallon | |
| Hardness: | 45 Shore A | |
| Tensile Strength: | 500±50 psi | ASTM D412 |
| Elongation: | 315%±100% | ASTM D412 |
| Permeability: | .14 perm/cent. | ASTM E96 |
| Flash Point: | None | |
| Coverage: | 65 lineal feet / gal for 0.45″ wide x 0.25″ thick strip. | |
| Application Temperature: | 55°F – 100°F. Less than 85% relative humidity. | |
| Dry Time: | 3 – 6 hours | |
| Shelf Life: | 12 months @ 40°-90°F | |
| Clean Up: | Water | |
Caution: EnergyGuard Acrylic Elastomeric Caulk is a water-based roof sealant which will freeze and become unusable at temperatures below 32°F. Suspend all application if conditions prevent a complete cure before sunset, rain, fog, dew or freezing temperatures. Fixallroof Coatings must be completely dry before exposing to water or foot traffic. Keep Acrylic Elastomeric Caulk Coatings containers covered when not in use. Dispose of all containers in accordance with state and local environmental regulations. Keep away from children. If ingested, DO NOT induce vomiting. Call Physician immediately.
Product information contained herein are presented in good faith and believed to be reliable. They do not constitute part of our terms and conditions of sale. It is also not a guarantee, either expressed or implied, that the data are correct or that products described are merchantable or fit for a particular purpose as methods of use are beyond our control. Customer should determine the suitability of our materials and installation recommendations before usage. Manufacturer's sole responsibilty shall be to replace that portion of any product that proved to be defective.