Roof coatings
can be used for roof leaks repair and to extend the life of all types of roof leaks repair including
concrete roof leaks
, metal roof leaks, flat roof leaks and built up roof leaks repair etc. It can also be used for
RV roof leaks repair
whether its RV rubber roof repair or RV metal roof repair. Roof coatings prevent degradation by the sun (ultra-violet radiation). A thickness of 30 dry mils is usually preferred for roof coating and once it is fully cured, you will have a seamless, watertight membrane.
EPDM Coatings are unique high performance roof coatings that combine durability and high chemical resistance while maintaining excellent flexibility. These roof coatings can directly be applied to all sorts of roof leaks repair and RV roof leaks repair.
Most of the roofs use a fiber impregnated material for roof coatings. These roof coatings are used to seal the roof leaks and accessory for roof leaks. These roof coating materials are applied with a paint brush or putty knife and should be applied to a clean prepared surface for best roof leaks repair results. Flat roof coatings, concrete roof coatings or metal roof coatings should be removed and the surface must be cleaned with soap and water. A wire brush can be used to "rough" up the leaking roof surface. A heat gun will help soften the old roof coatings to aid in removal. So will the hot sun on a 100 degree day, but that is no time to be up on the roof!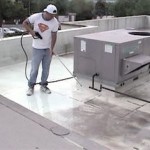 Roof Coatings Are Categorized In 5 Types: