Liquid Rubber is the ONLY epdm product in liquid form in the world.Liquid EPDM applied over generally sound single ply EPDM can extend its life another 20 years. The "Do-it-yourselfSolution" save thousands on normal roof installations. Fix Roof Leaks, Seal and Protect Surfaces. One Coat Application. Great on existing EPDM rubber roofs.




No Primer or Top Coat needed, Easy application! Liquid EPDM can be applied at any temperature however it will not cure until it gets above 55 degrees. Also note Liquid EPDM is not effected by rain even while it is curing.
First. No other product can match the durability of EPDM rubber. EPDM Liquid Roof and EPDM Liquid Rubber are true EPDM liquid rubber roof sealant Rubbers, And are easily applied, have a slow cure time and are water resistant. Repairing roof leaks is now very easy, EPDM coatings provides a strong roof repair solution.
Liquid Roof is nearly identical chemically to sheet EPDM but with the distinct advantage of being a liquid. It is self-adhering and seamless.
It will seal leaks, reduce heat build-up and rain noise and considerably extend the service life.
Liquid EPDM has proven itself superior to Acrylics, Urethanes and other elastomers for up to 3 times longer.
As a liquid it can conform to any shape of roof, flashing, or protrusion both vertical and horizontal. It cures by chemical reaction to form a self adhering seamless membrane.
Liquid EPDM forms 100% seamless membrane.
The unique properties of EPDM rubber make it a versatile maintenance and repair product and its uses are limitless!
Helpful Tips For Contractors
Commercial Roofing Applications With Liquid Rubber
Metal
A one coat application of Liquid Rubber 9981 will produce a 20 mil(.5mm) dry film. No primer is need even if metal has tightly adhering corrosion. Rubber & Thermoplastic membranes Repair delaminated sea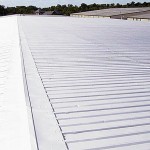 ms; resurface deteriorated flashing in place; stops embrittlement of Hypolon and PVC; recoat single ply EPDM.
Urethane FoamOne coat will protect foam against UV degradation. Asphalt based coatingLiquid Roof/Liquid Rubber should not be applied directly over an asphalt based coating. Water based acrylic elastomeric coatings may be used as intermediate coats before applying Liquid Roof/Liquid Rubber. Asphalt's based applications should be considered as being unstable materials and are excluded from warranty coverage. Caution-Latex house paints can not be substituted in place of the acrylic elastomeric coatings.
Click Here For Built Up Roof Project
PlywoodCan be applied direct to plywood and lumber; however, we suggest a non oil-based primer.
ConcreteRubber will penetrate into fissures at joints between old and new concrete. Product will also penetrate into surface pores unless concrete is trowel finished or pores are first sealed with a primer. Rubber will effectively waterproof tiles and rain gutters made of concrete or adobe type materials.
Flashing and repairs.
Roof to wall flashings can be formed in place by reinforcing the rubber with polyester fabric. No mechanical fasteners are needed. Quick repairs to reinforce weak areas or bridge cracks can also be made in similar fashion.
Commercial and Industrial Applications.
Steel Siding For Buildings.EPDM rubber is an excellent recoat product for roll formed steel siding which is starting to corrode at the bends. The rubber can be applied as one coat system with no corrosion inhibitive primer needed.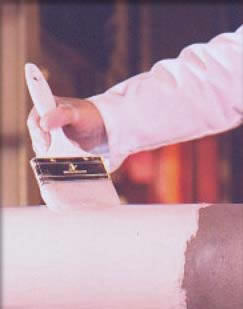 Fabricated steel in marine environments.
Cranes, tanks and support structures at dock facilities experience accelerated corrosion rates due to salt water exposure. EPDM rubber coatings are not affected by salt and are ideal for this type of environment.
Steel storage tank.Elevated or on ground steel storage tank can be effectively protected with a rubber coating. Surface condensation, cathodic protection nor thermal stresses between sun and shady areas present problems for the coating.
Marine Uses.
(Product -9911 Ship Shape) EPDM rubber coatings can be effectively used on ships, boats and barges. because of their inherent characteristics: i.e. Ultra Violet stability, salt resistance, excellent water resistance, low and high temperature tolerance and flexibility.9911 Ship Shape is designed specifically for marine use.
Concrete pipe and spill containments.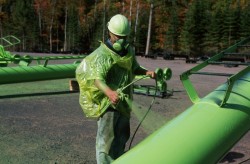 EPDM rubber coatings are very effective for protecting concrete pipe against salt water corrosion. They can tolerate higher temperatures, exposure to strong sun, and have 2.5 times higher solids than liquid Neoprene coatings.
Corrosive environments.
Corrosive environments are created by many industrial operations where acids are used. Similar conditions can also be produced organically in poultry and hog production operations which generate high volumes of manure. EPDM coatings can protect the steel and other construction materials from rapid deterioration in these environments.
One component Thermoset EPDM Coatings Non thermoplastic materials, regardless of shape can now be coated with EPDM rubber as a protection against corrosion or chemical attack. The coating can be applied by spray, dip or flowcoat methods and than cured in an oven at temperatures from 250-300 F (120-150 C). These single component products are custom formulated for a specific application, have good storage stability and are very easy to apply. Viscosity and solids content can be controlled and make it possible to apply thin as well as thick coatings of EPDM rubber.